The Edson Hill
Experience
Vermont Vacation, Weekend Getaway + More
Nestled high on a hill overlooking 38-acres of natural breathtaking Vermont scenery; Edson Hill is conveniently located just a short drive from the village of Stowe and skiing at Stowe Mountain Resort. Guests experience the serenity of a secluded retreat where you can feel a million miles away – along with easy access to endless local attractions.
As you veer off Stowe Mountain Road and enter the property you're greeted by Edson Hill's quintessential Vermont structures – the historic gray barn and the rambling horse stables and Nordic Center. Follow the winding road as it wraps its' way around the sparkling pond and sprawling lawns delivering you to Manor House reception.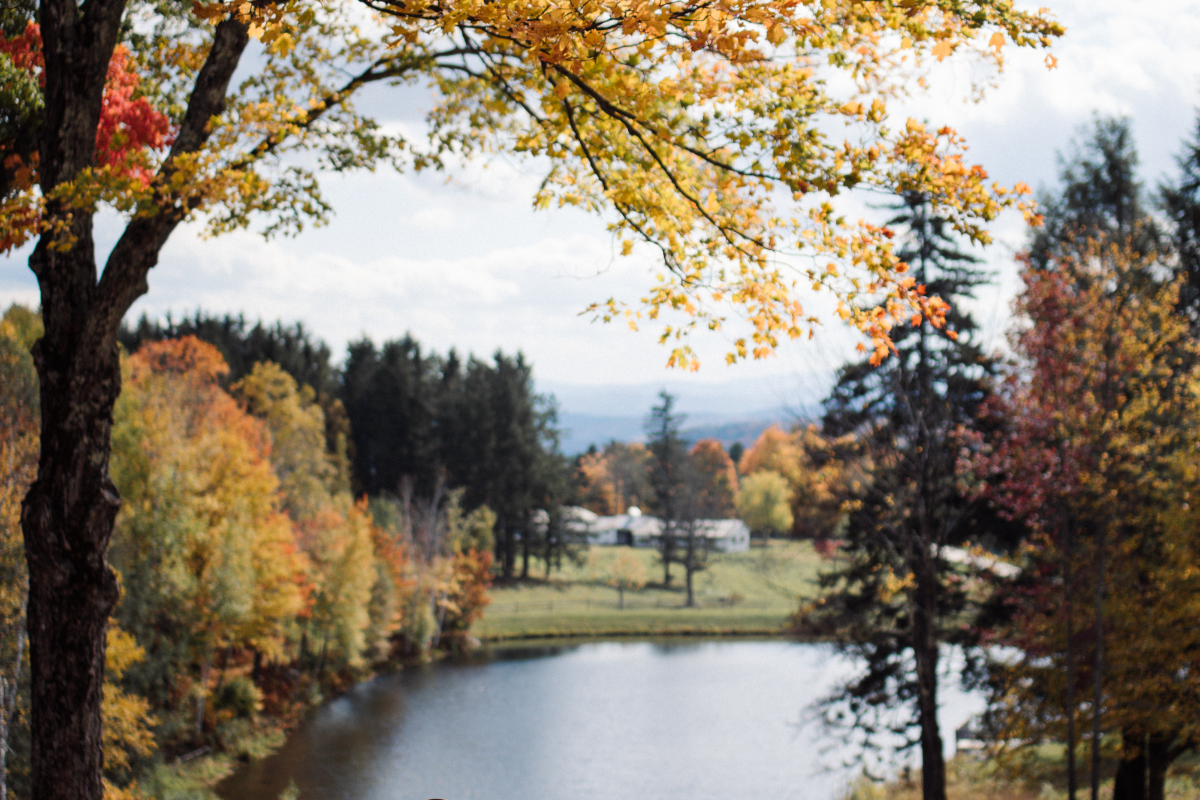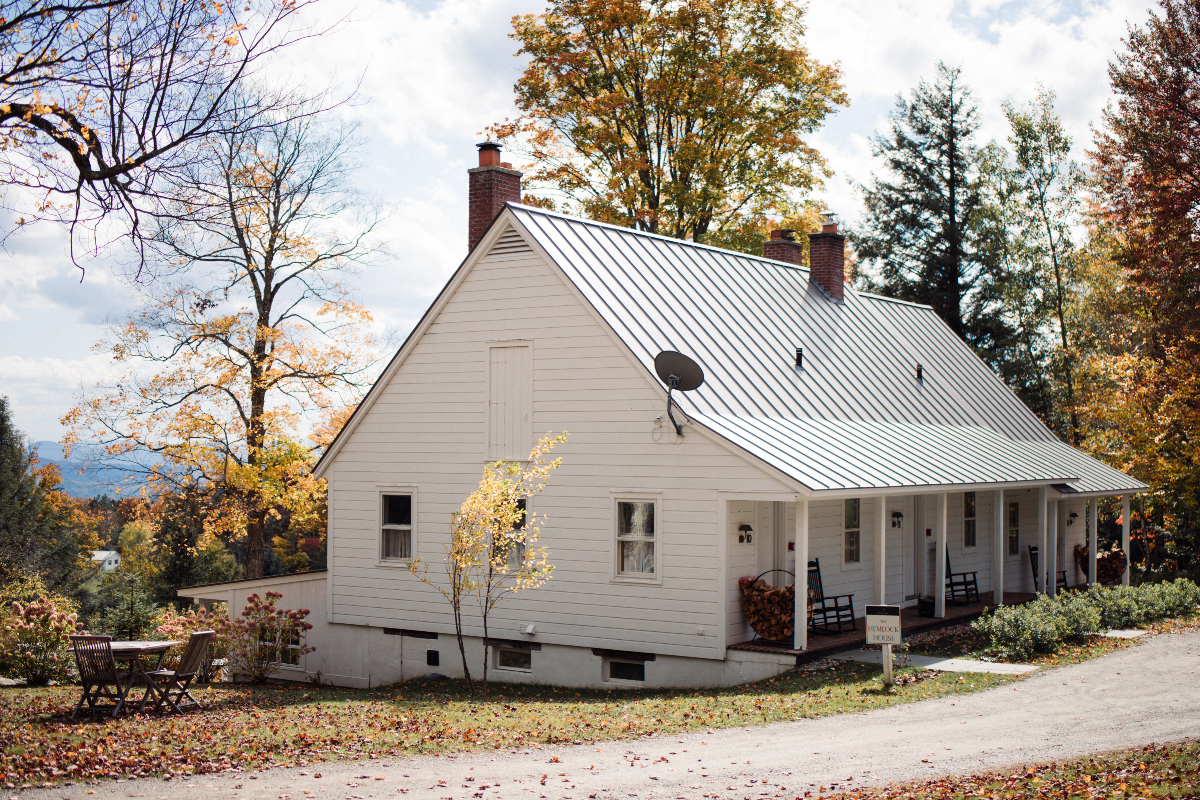 Our four guest houses sit on the hill above celebrating their own panoramic views of the untouched Worcester Range and the Green Mountains.
In the summer months, take a stroll on the walking trails and take a deep breath of the fresh Vermont air. Stop at the dock and dive into the pond for a dip or just relax amongst the tranquil scenery.
In the winter time, play a game of chess fireside in our living room, or cozy up in the Tavern with a glass of fine wine. For the more ambitious, we invite you to snowshoe, ski, or fat bike our historic trail system that runs through the property.

"We had a perfect stay at Edson Hill this past weekend! Everything was a dream! We were guests here during a beautiful wedding weekend. The staff was such a joy and the service impeccable! We will definitely return." – Paige G.
"Edson Hill is more than the sum of its parts – the location, the food (best cocktails I have had in recent memory), the rooms were all exceptional on their own but the experience combined made for a truly amazing stay". – Corinne Kenney
"From your first morning views, breakfast, staff conversations, and throughout the day, Edson Hill made our stay memorable. The 3-day wedding experience was exceptional!"

– Debbie L., August 2023
"Edson Hill is a 10 out of 10 in every regard! My daughter and her fiance got married there this past weekend and everything was absolutely perfect. Every single person working at Edson Hill is amazing. They are good at what they do, but so very nice and kind to work with as well. The food is just delicious, atmosphere the best and it was a weekend where we were able to focus on all the love around us and nothing else. Thank you Edson Hill for the most amazing wedding!"
– Lori T., July 2023
"What an exquisite two-night stay we had at Edson Hill this week – the place of our wedding 35 years ago! The inn is at least as charming as it was for wedding many moons ago. The inn's spaces are very comfortable; the vistas on the property are awe-some; the staff members are very welcoming – in fact we were treated like royalty; and their breakfasts are hearty and delicious. We also enjoyed cocktails in their welcoming tavern, and a wonderful anniversary dinner in their restaurant. The patios off of the tavern and the dining room, where we were served, offered fresh air and beautiful views. We will definitely celebrate future anniversaries at Edson Hill."
My husband and I just spent the past weekend at Edson Hill to celebrate our 10 year wedding anniversary. This was our third trip here over the past few years and we love it every time! We love the rooms, especially the fireplace, the staff is so friendly and helpful, and the breakfast each morning is delicious. I would highly recommend this hotel to anyone! We look forward to going back in the future!
Whether you're looking for a quiet respite from the hustle and bustle of home, or a high energy, active family vacation, an Edson Hill getaway assures the best of both worlds.
"Best Thanksgiving Ever – We could not have enjoyed our Thanksgiving holiday any more than we did. 4 couples -all good friends and we remained so after 3 days together. The accommodations were very comfortable and the views from every window were wonderful. Some of us enjoyed wood buring fireplaces in our rooms which made it even better. This may be a new tradition." – Peter W., November 2022
Luxury Stowe, Vermont
Accommodations
Relax in elegant comfort with all of the modern conveniences.
Edson Hill
History
A Rich History Lives on at Edson Hill Country Inn
Edson Hill, a historic Stowe Inn and restaurant with extensive grounds, was purchased in 2014 by three Boston-based families whose vision was to keep Edson Hill a full-service luxury inn and restaurant, while adding some of their own personal touches. The secluded retreat includes the main building, four hillside cottages, a swimming pool, fishing ponds, a horse barn paddocks, and a network of trails – to name only a few amenities.
The main building, or Manor, was built by Verner Reed, a Newport, R.I., man. The original construction boasted building materials salvaged from notable Vermont structures, telling their own tales of Vermont's history. The red brick walls once part of Burlington's famous Sherwood Hotel, and the beams that cross the living room were originally crafted for the barn of the legendary Ethan Allen.
Renovated, Refined and Redesigned in 2014 to Create a Distinctive Luxury Inn
Gauthier-Stacy Interiors
When faced with restoration and redesign of Edson Hill, the new owners were committed to honoring the historic integrity of the property but wished to incorporate modern conveniences and sophisticated charm. They called on part owner Susan Stacy, of Boston-based interior design firm Gauthier-Stacy, for the experience, creativity,
talent, and enthusiasm required for the challenge. The results? Livable, comfortable, and modern, with a gentle nod to the past; earning Gauthier-Stacy and Edson Hill critical acclaim for design, comfort, and unique touches, for both accommodations and service.

"Edson Hill is more than the sum of its parts – the location, the food (best cocktails I have had in recent memory), the rooms were all exceptional on their own but the experience combined made for a truly amazing stay". – Corinne Kenney

"We had a perfect stay at Edson Hill this past weekend! Everything was a dream! We were guests here during a beautiful wedding weekend. The staff was such a joy and the service impeccable! We will definitely return." – Paige G.

"Edson Hill is a 10 out of 10 in every regard! My daughter and her fiance got married there this past weekend and everything was absolutely perfect. Every single person working at Edson Hill is amazing. They are good at what they do, but so very nice and kind to work with as well. The food is just delicious, atmosphere the best and it was a weekend where we were able to focus on all the love around us and nothing else. Thank you Edson Hill for the most amazing wedding!"

– Lori T., July 2023

"Best Thanksgiving Ever – We could not have enjoyed our Thanksgiving holiday any more than we did. 4 couples -all good friends and we remained so after 3 days together. The accommodations were very comfortable and the views from every window were wonderful. Some of us enjoyed wood buring fireplaces in our rooms which made it even better. This may be a new tradition." – Peter W., November 2022

My husband and I just spent the past weekend at Edson Hill to celebrate our 10 year wedding anniversary. This was our third trip here over the past few years and we love it every time! We love the rooms, especially the fireplace, the staff is so friendly and helpful, and the breakfast each morning is delicious. I would highly recommend this hotel to anyone! We look forward to going back in the future!

Whether you're looking for a quiet respite from the hustle and bustle of home, or a high energy, active family vacation, an Edson Hill getaway assures the best of both worlds.

"What an exquisite two-night stay we had at Edson Hill this week – the place of our wedding 35 years ago! The inn is at least as charming as it was for wedding many moons ago. The inn's spaces are very comfortable; the vistas on the property are awe-some; the staff members are very welcoming – in fact we were treated like royalty; and their breakfasts are hearty and delicious. We also enjoyed cocktails in their welcoming tavern, and a wonderful anniversary dinner in their restaurant. The patios off of the tavern and the dining room, where we were served, offered fresh air and beautiful views. We will definitely celebrate future anniversaries at Edson Hill."

"From your first morning views, breakfast, staff conversations, and throughout the day, Edson Hill made our stay memorable. The 3-day wedding experience was exceptional!"


– Debbie L., August 2023